We would love to be your chiropractor in Houston. Why not call today & Schedule an appointment!
WHAT MAKES US
DIFFERENT

We care enough about you to find the root cause of your health issues , rather than just treating only your symptoms.
Our investigations may include the following :
A thorough patient health history.
A comprehensive, advanced nutritional analysis.
A complete spinal and postwal examination.
Lab tests, including blood work, hormone testing, tissue mineral analysis and acoustic cardiograph.
Treatment and support protocols are customized to your unique needs.
OUR TREATMENTS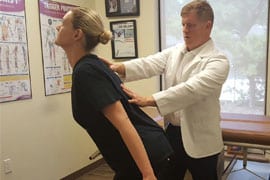 DIETARY / EXERCISE / LIFESTYLE INSTRUCTIONS
WHY CHOOSE US

Your custom evaluation and treatment plan fits your needs. No cookie cutter diets, supplement protocols, or requirements of expensive tests for all patients, like some offices.
Our chiropractic adjustments are gentle, precise, and comprehensive. They are safe enough for infants and the elderly, yet effective enough for a large, male professional athlete.
We can support your body in a wide array of health issues, from acid reflux to sciatica to low immunity.
We can do a turbo-charged trigger point massage in 10 minutes that is as effective as a 1 hour massage (10 minutes = 1 Hour!!!). This is great for those busy, time-crunched professionals.
We keep our prices reasonably low, instead of spiking them to fit into an insurance-based office.
We use only premium and professional nutritional supplements from companies that exhibit integrity, do thorough research, and use superior ingredients.
MAKE AN APPOINTMENT